(中文版請向下滑)
Straight Finish Orthodontics is pleased to announce that both our Manhatan and Brooklyn office locations are open.
Our staff will be wearing the PPE (personal protective equipment) when treating our patients. Additionally, we will be spacing out all appointments to maintain social distancing and establishing new office protocols such as temperature screening and providing hand sanitizer. Our staff will be notifying all patients of these new protocols prior to their scheduled appointment.
All patients are required to fill out a Wellness and Consent Form and submit the completed forms back to us a day prior to your appoitment. If patient is udner age of 18, a guardian must sign the forms on behalf of the patient.

Please be advised that we will try our best to see all of our patients as soon as possible. In the meantime, if you have any questions or concerns please call our office. Our patients are part of the Straight Finish Ortho family and we look forward to treating everyone very soon!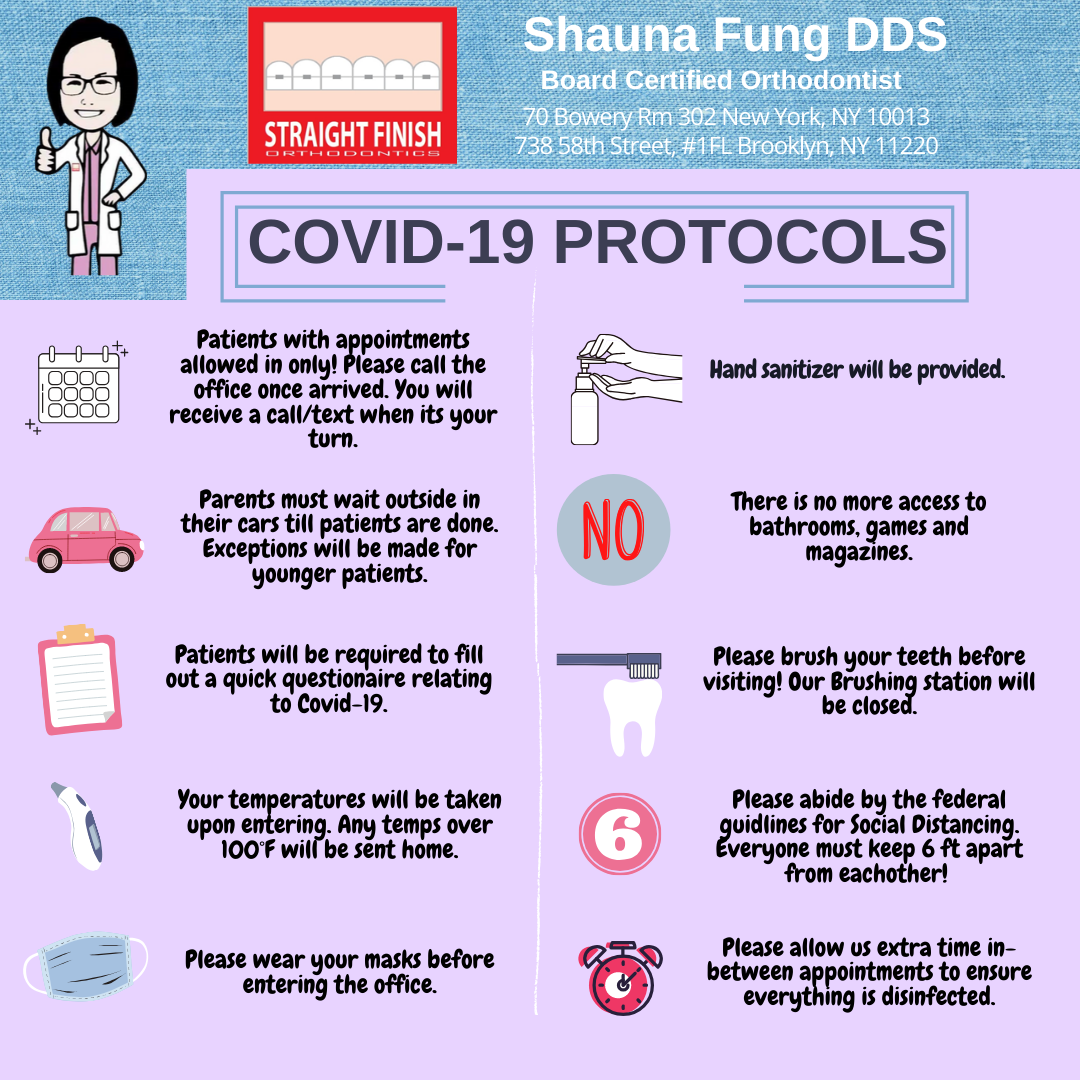 馮婉瑤牙齒矯正專科很高興地宣布,我們曼哈頓和布魯克林診所現已接診。
在治療患者時,我們的員工將穿著PPE(個人防護設備)。此外,我們將減少預約密度以保持社交距離,並建立新的接診流程,例如探測溫度和提供免洗洗手液等等。我們的員工將在安排預約之前將所有這些新流程通知所有患者。
所有患者需要在每次預約前一天完成並提交2份表格(知情同意書和健康問卷)。18歲以下患者需要監護人簽名。表格連接(URLs)會通過電子郵件發送。如果需要中文翻譯,可向工作人員提出。
請注意並理解,我們將盡力盡快與所有患者預約治療。同時,如果您有任何疑問或疑慮,請致電我們的辦公室。我們的患者屬於馮婉瑤牙齒矯正專科家族,我們期待盡快為每個人提供治療預約!